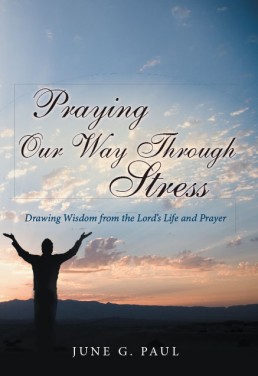 Praying Our Way Through Stress
This book can be used individually or in groups. Readers will first learn about the manifestations and dangers of unresolved stress. How do we respond to stress? What causes the stress in our lives and how did Jesus respond to stress? From the Sermon on the Mount through the Lord's prayer learn healthier ways of managing stress and helping others to do the same.
Blessed are the Peacemakers, for they will be called Children of God.
—Matthew 5:9 NRSV
"I highly recommend this book Praying Our Way through Stress: Drawing Wisdom from the Lord's Prayer and Life. June Paul has a passion for reaching out to all those suffering from the various stressors in their lives. She uses her compassion and her intimate knowledge of God's Word to share with the reader His love, grace and mercy for them"
—Ken Manthey, Portage Police Chief
"This book will touch a very important area in our current society."
—The Rev. U. Dean Hekel,
VA Chaplain and Priest
I attended one of June's presentation about her book, "Praying Our Way Through Stress: Drawing Wisdom from the Lord's Life and Prayer."  I thought it was interesting, it was powerful, and made me think about a lot of things.  I was impressed.
—Joelle Arentson